Humanity is facing the biggest challenge of the 21st century in these months: the consequences of the coronavirus epidemic are unpredictable, not only for our health and well-being, but economic recession and loss of workplaces also threaten us.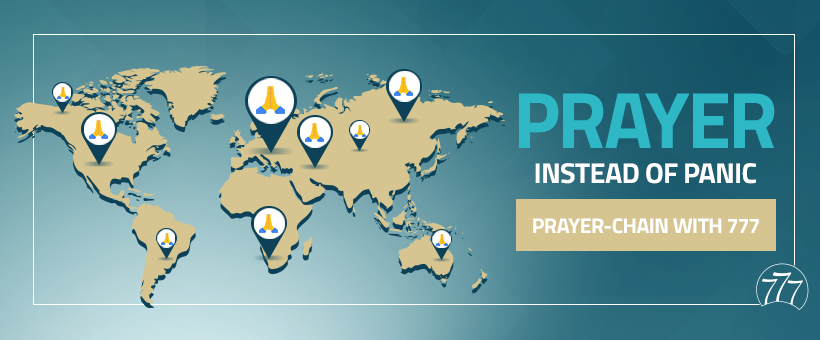 We believe in the power of collective prayer, and as Christians we have a serious responsibility. Therefore, we invite You to join our prayer-chain, in which we pray for people in trouble and distress, pray for the doctors and nurses caring for them, and pray for our future, as Jesus promised us: "Again, truly I tell you that if two of you on earth agree about anything they ask for, it will be done for them by my Father in heaven. For where two or three gather in my name, there am I with them." (Matthew 18:19-20)
Please join the prayer-chain of 777!
Say the prayer
Find your town on the map, and click on it
Insert your first name
Save!
"Lord, we bring before you our sick – we pray for solace and healing. Be close to those who are suffering, especially to those who are dying. Provide comfort to the distressed.
Bestow wisdom and power upon the doctors and researchers; give strength to the nurses to bear this huge burden. We pray for those, who suffer from panic. For those, who are overcome by fear. We pray for peace and clarity in the storm. We pray for those who suffer from financial losses, or they are in fear of the loss they might incur.
Heavenly Father, we bring before you everyone, who are in quarantine, are lonely and have nobody to embrace. Fill their hearts with your peace. And we beseech you for this epidemic to recede, the numbers to decrease, and everything shall be the same again. Make us grateful for each of our healthy days.
Do not let us forget that our life is a gift. That we will die someday, and we cannot control everything. That only You who is eternal. There are many inessential things in life, which often seem too loud and too important. Make us grateful for all those things we take for granted if we are not in a crisis.
We trust you! We thank you!"
(Johannes Hartl)